Whenever you do some searching in App Store and try to download or purchase new apps, it will proceed to Spring board with the app starting to download. This could be quite annoying as you may want to continue checking for other apps but there isn't any option available that you can configure to stay in App Store menu. Good thing now, there is actually a free utility named as StayOpened from Cydia that enable users to stay opened in App Store without being kicked out each and every time a downloading activity begins.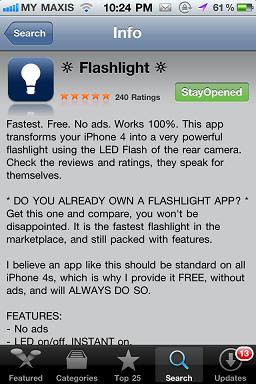 Since it is from Cydia, it also means you will need to jailbreak your iOS devices before it can be used. Assuming that you have done that – proceed to Cydia, then search for 'StayOpened', followed by installation, Springboard restart and you are done. By default, all the StayOpened settings will be enabled (which you can disable any of them under 'Settings' -> StayOpened at any time).
By now, whenever you try to download or purchase any apps from App Store, and after you tap on the 'Free' or 'Purchase' icon, you will notice 'StayOpened' wording and just tab on it will start the apps downloading. While it is running in background, you can continue to shop for other apps without the need to re-launch App Store.