AirPlay is a streaming protocol from Apple that allows wireless streaming of audio, video, and photos, and related metadata between devices, mainly from iOS mobile devices such as iPhone, iPad, iPod running on iOS 4.2 or greater and iTunes to Apple TV, AirPort Express with audio output jack connected, and licensed third-party devices especially speakers.

Hackers have managed to reverse-engineer AirPlay protocol to retrieve the private key used by AirPlay encryption algorithm, effectively allowing any software developers or hardware manufacturers to use the private key to decrypt AirPlay streams, and playback or store the AirPlay streams.
Many software applications have been developed to act as AirPlay receivers on otherwise non-supported devices, with the latest been Windows Media Center (WMC). A developer named Thomas Pleasance has developed and released an add-in for Windows Media Center which enables WMC to receive and show videos, audios (coming soon but probably for payment) and photos streamed via AirPlay protocol. It's not the first attempt to support AirPlay on WMC, but is probably the first app that allows AirPlay support to work on Windows Media Center seamlessly.
For the AirPlay for Windows Media Center to work, Apple's Bonjour for Windows has to be first installed. Then, grab the AirPlay for WMC from madeformediacenter.com or from Windows Live SkyDrive. The Windows system must have Microsoft .NET Framework 3.5 too, where Windows 7 already came pre-installed with.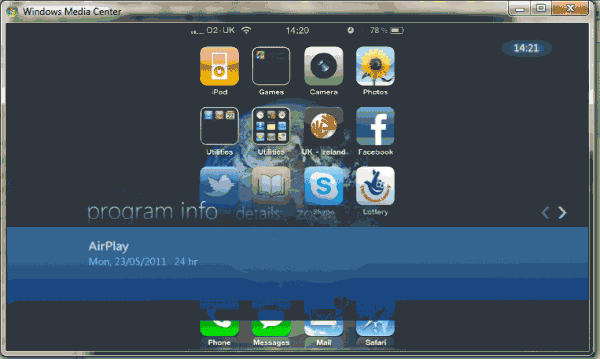 The AirPlay add-in is still in beta, but working properly nonetheless. No configuration is required after installation. Just play some media (music or audio is not supported yet) on iPhone, iPod or iPad, tap on the AirPlay icon and choose "Windows Media Center", which should now list as one of the supported AirPlay devices as streaming target.
The add-in may be fine-tuned to support Windows Media Center Extender (MCE) in future, which allows AirPlay to stream directly to Xbox 360.