Generally many users couldn't care less if the Metadata (also called metainformation) of the digital photos and images taken by them is exposed when they published or posted them online. However, sometimes for some reasons you probably do not want to disclose the Metadata of some photos taken; for instance the date and time at which the photos were taken, the camera settings such as aperture, exposure, focal length, GPS setting, etc. If you want to strip off the Metadata from the photos that you intend to publish online, there is a tiny portable application, JPEG & PNG Stripper which could help you to do the job.

As the app's name highlights, JPEG & PNG Stripper strips and removes all the definitional data of the photos. This app deletes all the unnecessary metadata from image files in JPG/JPEG/JFIF and PNG formats. It would compromise and affect the image's quality by stripping off the metadata.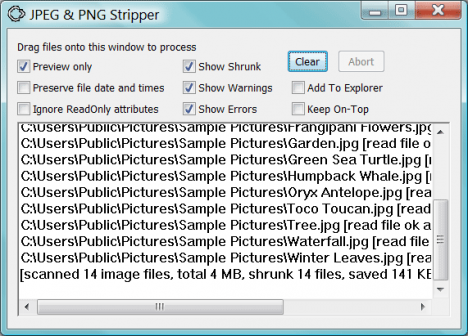 The JPEG & PNG Stripper is free and it is only compatible with Windows OS, e.g. Windows 95, Windows 98, Windows ME, Windows NT4, Windows 2000, Windows XP, Windows 2003, Windows Vista. Users can download the app via the link here. This app does not require installation. Users could just run it by double clicking on it. Once it is executed, a JPEG & PNG Stripper Windows will be prompted. Users can just drag the photo files to the Windows. A simple click to the "Clear" button will get the thing done!