StuffIt 2010, from Smith Micro, is a user-friendly and useful application which is designed to address basic archiving and compression needs. StuffIt 2010 combines the functionality of StuffIt Expander, DropStuff, DropZip, and DropTar into a single convenient program.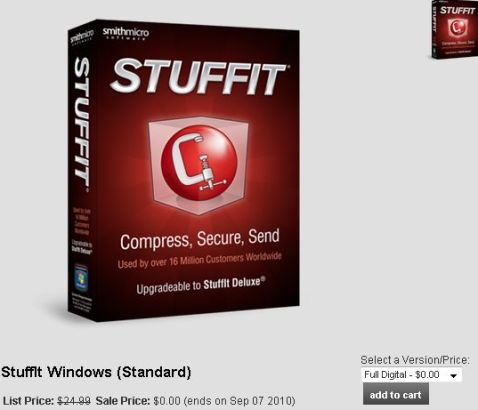 Key features of StuffIt 2010:
Compress and expand file archives with no quality loss
Powerful encryption security and password protection to secure your compressed data
Self-healing archive creation for protection against data corruption
Send and transfer your archives via email or StuffIt's built-in FTP
StuffIt 2010 for Windows (Standard Edition) normally costs $24.99 per single license. As part of Smith Micro promotion, interested users are now entitled to download StuffIt 2010 Windows at no cost. This promotion will expire on September 07, 2010. So, hurry up!
To grab a free copy of StuffIt 2010 Windows Standard Version, follow these steps:
Visit the promotional page.
Press Add to Cart and a Cart Update box will pop up.

Click Proceed to Checkout.

Remove Extended Download Service to void the $1.68 charges, and continue.

Log in (existing users) or create a new Smith Micro account for obtaining a setup installer and license code for StuffIt 2010 Windows.
StuffIt 2010 Windows is fully compatible with Windows 7, XP and Windows Vista platform.