You probably don't aware that the software running in your computer may not be the latest version and you may miss some of great features which are only available in the latest version. Unlike Firefox and its add-ons which can auto detect if there is any newer version available, most software will not have an auto detect feature to ask you to upgrade to the latest version once it is available. If you would like to ensure your favorite software is installed with the latest version from time to time, SUMo is probably one of the good solutions that can inform you on the availability of latest version and let you upgrade it directly.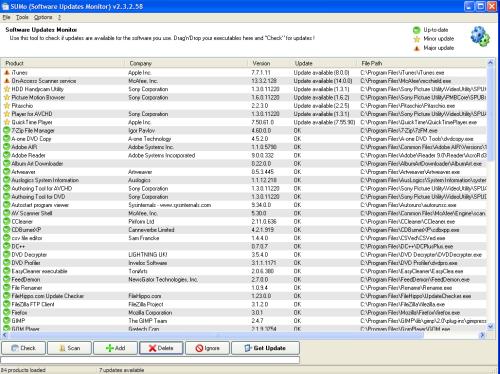 SUMo, which stands for Software Update Monitor is able to detect if the software version installed is the latest version prior to using it. When you launch it, it will auto detect and display the list of installed software as well as the current installed versions. To know if there is any latest version available, just click Check button and it will help you check against the website if there is any newer version being released. If the answer is yes, the latest version will be displayed under Update column. You can even know if the latest version is minor or major update by looking at the symbol as displayed beside the product name. If you would like to upgrade to the latest version, just click Get Update button and all software which are not installed to the latest version will be upgraded accordingly. However, if you would to maintain some of them in current installed version, just click Ignore button at each of them and they will be skipped to be upgraded once Get Update button is clicked. For any software doesn't auto detected and displayed at the interface, you can add them manually by using the Add button. Besides, Scan button is used to scan installed software again and display current installed versions.
SUMo 2.6.3.79 is absolutely free to download and it works well on all type of Windows OS. Users can get the free download to ensure auto detection of latest software version when they are available for upgrade.