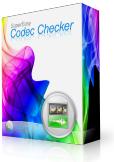 With the popularity of BitTorrent (BT) and ED2K P2P (Peer-to-Peer) file sharing technology, many Internet users are now downloading bunch of video clips, movies, films, TV serials, music videos and other media files to local computer for viewing and personal watching. These video files and its audio are encoded with all sort and kind of encoding formats

When the supported codec is not installed, the media player software such as Windows Media Player will display error message such as "Not playable", "Codec not found", "Program cannot play the desired video because…", "No filter found", "Program could not render" and etc. Without the codec, the video will not play, or the video is not showing and playback, or the sound audio is not heard.
The solution to missing codec error is pretty easy. User just need to download and install the required codec in order to play back the video with sound properly. SuperEasy Codec Checker is a freeware utility that analyzes video clips & audio files and lists the found information like resolution, frame rate, audio- and video bit rate in a clear tree structure, classified by audio and video stream and by used file format. With the information, user can know why the playback issue occurred and how it could be solved.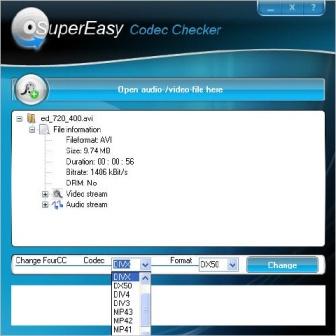 Features of Super Easy Codec Checker:
With 4CC-Manipulation – Some AVI-Videos (like an Internet-loaded DivX- or Xvid-movie) are rejected because their identification does not correspond to what media player expects. Identification is stored in the header of the respective file and indicates the video format as well as the video codec used for creation. DivX-certified MPEG-4-players in particular often insist on finding the character string 'DIVX' and/or 'DX..' in the header – even if basically they would be able to play videos that were created by means of other codecs like e.g. HDX4 or Xvid. For these cases SuperEasy Codec Checker has the ability to equip an AVI-File with a different identification, by selecting the desired character string from a drop-down-list.
Supported formats – AVI, DV Type-1, DV Type-2, DivX AVI, MPEG, MPEG-1, Video CD, MPEG-2, Super Video CD, MPEG-M1V, MPEG-M2V, VOB, MP4, Nero Digital, 3GP, 3G2, PSP, WMV, ASF, Nintendo DS, Ogg, Matroska, DVD, MVR, DVD+, QuickTime, MOV, Real Media, AUDIO, Wave, MP3, MPA, MPEG-M1A, MPEG-M2A, Matroska Audio, Real Media Audio, AIFF, AIFC, AU, IFF, PAF, SD2, SF, VOC, V64, MAT, PVF, XI, HTK, SDS, AVR, AC3, DTS, AAC, APE, MAC, FLAC, CDXA, Audio CD, M4P DRM, M4P, Ogg Audio, Subtitle, DVD IFO, Matroska and Real Media.
Supported DRM-technologies – iTunes protected, iTunes free, Windows Media 9 protected, Windows Media 9 free, Windows Media 10 protected, Windows Media 10 free, DivX protected, DivX free, css protected, css free and css wrong region.
Supported FourCC-modifications – DixX and Xvid compatible.
SuperEasy Codec Checker supports Windows XP and Windows Vista with Windows Media Player 10 or 11. It requires Microsoft .NET Framework Version 2.0. To get the free full version of SuperEasy Codec Checker, go to the following web page:
http://www.supereasy.de/english/ccfullversion.php
Enter your first name, last name and email address, then click on "Send" button. A confirmation email will be sent to the mailbox. Click on the personal link to to receive the free serial number of the SuperEasy Codec Checker.
Download SuperEasy Codec Checker from download.com.