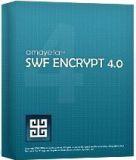 SWF Encrypt, from Amayeta, is a powerful, industry-leading Flash Actionscript Encryption tool to encrypt and protect your Adobe Flash SWF files from ActionScript Decompilers and SWF hackers. The latest version of the SWF Encrypt is SWF Encrypt 6.0, which adds support for Flash 10 and ActionScript 3.0 SWF Files.

Key Features of Amayeta's SWF Encrypt 6.0:
Encrypt your Flash 6, 7, 8, 9 and 10 SWF movies
Updated for Flash 10 SWF Files created with Flash CS4 and Flex 2/3.
Dense ActionScript Obfuscation
No ActionScript Line Limit
Available for Windows and Mac OSX platforms
SWF Encrypt 6.0 normally priced at $145 per single user license. As part of Amayeta promotion, interested users can now download the SWF Encrypt 4.0 (older version) at no cost for free, which utilizes an older obfuscation engine and can just support Adobe Flash 6, 7 and 8 SWF Files.
To grab a free copy of SWF Encrypt 4.0 full version, follow these steps:
Visit promotion page at http://www.amayeta.com/promo/mag/.

Complete the free SWF Encrypt 4.x license registration form and click Generate Free 4.x License button to generate your free license code of SWF Encrypt 4.0.

Note: you must select your platform – Windows or Mac OSX.

After generating and receiving the free 4.x serial, note down the serial number.
Then click Click Here to Download SWF Encrypt 4.x on the page to continue to download page.

Input your personal registration license serial key to activate the installed SWF Encrypt 4.0