Altiris Software Virtualization Solution (SVS) from Symantec is a software virtualization program which allows users to instantly install, uninstall, activate, deactivate, or reset applications and to completely avoid conflicts between applications, "DLL Hell" and "Registry Rot", without altering the base Windows installation, which is essential for software management by administrators.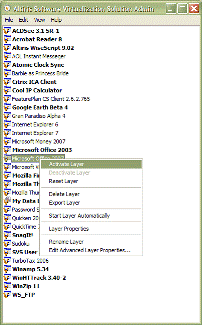 Altiris SVS works by capturing all changes made during installation of a particular application into managed units called Virtual Software Packages (VSP), which acts as a layer on top of the operating system. Each layer which different application can be loaded independently and with protected access to OS, making any defective or poorly written programs unable to damage the system. In fact, any problematic or troubled software application installed under SVS supervision can just be uninstalled or deactivated easily by turning off, disabling or deleting the layer.
The added advantage of Altiris Software Virtualization Solution is users can install and use two similar, conflicting or can't co-exists software of different version into two separate VSP layer, and loads anyone of them alternately as and when needed. SVS can also wipe out a problem program, reset a program to its just-installed state, ernately. For example, the user can keep an essential production program in place while also testing a beta of the next version. Even more, the user can transfer an installed program to another SVS-equipped computer simply by transferring the layer.
Other features of Altiris SVS Client Personal Edition version 2.1:
Run constantly in the background to manage active VSPs
Version 2.1 introduces new method for handling the registry to give VSPs a speed boost.
Version 2.1 can react to Windows logon events by allowing an automatic custom set of layers for each user.
"Redirect area" on disk to hold layer details which can be placed on different drives.
Globally defining and excluding files and folders virtualization for all layer.
Run-time mode to run a VSP without entering a license key, either purchased for commercial use or a free key obtained for personal use.
Altiris Software Virtualization (SVS) Personal Edition software is given away for free without charge by Symantec for personal use. Altiris SVS 2.1 is fully compatible with Windows Vista. By default, SVS costs $29 per node, and SVS Professional edition, which includes application streaming (a technique for running server-based VSPs with just-in-time downloading), costs $55 per node. The freeware Altiris SVS Personal Edition contains SVS Agent and supporting tools to use the product locally on a Windows PC, and is the same as the regular commercial product shipped by Altiris, except that it excludes server-side components for centralized management.
Download Altiris Software Virtualization Client Personal Edition version 2.1 from svsdownloads.com, a website that also contains lots of "pre-packaged" program for SVS using the virtual software archive (VSA) format.
Request for Altiris Software Virtualization Solution Personal Edition v2.1 free personal user license key from here, if required.
Note that if you uninstall Altiris SVS in future, you'll have to reinstall any virtualized applications as there is no way to automatically merge them into the underlying base system.