System Repair Engineer (SREng) is a security diagnostic software tool which doubled up as system configuration and system maintenance software to detect system errors or issues and then adjust or repair the system accordingly. The main purpose for the development of SREng is to make it easy for users to detect some common system issues, changes or damages caused by computer virus or malwares.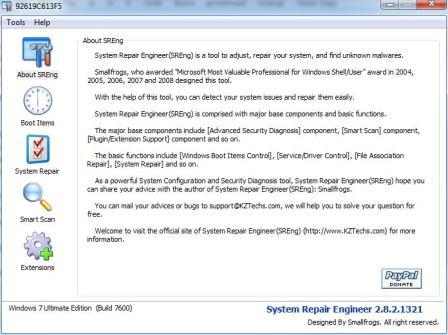 System Repair Engineer is developed by KZTechs.com webmaster Smallfrogs, who is awarded the Microsoft Most Valuable Professional for Windows Shell since 2004. Features of SREng includes the following:
Advanced security diagnosis
Smart scan
Support plugins/extensions
Windows boot items control, such as Run registry keys, Startup folder, Scheduled Tasks, Services and boot.ini file
Service and driver control
File association repair
System repair on Windows shell, IE shell, browser add-ons, HOSTS file, and Winsock provider
Automatic repair
Advanced manual repair – Winsock Reset, Repair Safe Mode, Scan API Hook.
With System Repair Engineer (SREng), user can detects the most common issues in user's computer and repair them by themselves. Beginner user of SREng can use Smart Scan function scan their computer to generate a report log, where computer expert can analyze the log and provides some advices. System Repair Engineer can also be used to delete and remove add-ons from IE web browsers, which otherwise cannot be removed.
The current version of System Repair Engineer is version 2.8.2, released late 2009. SREng is free and supports 32-bit (x86) versions of Windows operating system, including Windows 98SE, Windows ME, Windows 2000, Windows XP, Windows Server 2003, Windows Vista, Windows Server 2008, Windows 7 and Windows Server 2008 R2.
Download System Repair Engineer: sreng2.zip
It's also possible to download KZTechs.COM Software Suite which includes all softwares from KZTechs.COM, including System Repair Engineer with all plugins, Windows Shell Menus Manager, File Digital Sign Verify Tool, Windows Notifaction Area Tooltip Fix Tool, Windows Installer UnUsed File Cleanup Tool, RenamePlus, and PendMove: kztechssuite.zip