One of the global market leader in mobile communications, T-Mobile USA, Inc. has announced the launch of the highly anticipated follow-up to T-Mobile G1 Android phone, named as T-Mobile myTouch 3G (known as HTC Magic), which features 3.2-inch HVGA touchscreen display, on-screen virtual keyboard, 3.2-megapixel camera with enhanced video capabilities, Wi-Fi, GPS, music player with a pre-installed 4GB microSD memory card, multitasking capabilities and one-touch access to popular Google services including Google Search by voice, Google Maps with Street View, YouTube and Picasa.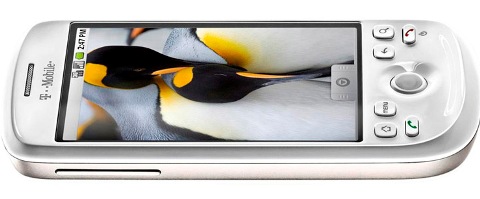 "T-Mobile myTouch 3G puts you first, so you can create a mobile experience that is truly your own," said Denny Marie Post, CEO of T-Mobile USA. "There's no cookie-cutter approach to myTouch. Inside and out, there are boundless possibilities for personalization so you can put your personal touch on the phone and make it uniquely yours."
The T-Mobile myTouch 3G which includes instant messaging support for Google Talk, AOL, Yahoo! Messenger and Windows Live Messenger can provide users an easy access to both personal and corporate e-mail, including support for Exchange, Gmail and most other POP3 and IMAP e-mail services as well as synchronization with Google contacts and calendars.
"Now more than ever, customers are regularly accessing mobile applications that enhance their personal interests. Through the power of location and social discovery, T-Mobile is working closely with Google and developers like Geodelic to create experiences that are as unique as each person using it," said Cole Brodman, chief technology and innovation officer for T-Mobile USA. "So wherever you are and whatever your passion — music, marathons, movies and more — myTouch is the phone for you."
In addition, the T-Mobile myTouch 3G will incorporate new Sherpa application which features GENIE (Geodelic ENgine for Interest Evaluation) learning engine that able to automatically customize itself to the user's preferences, learning and recommending their favorite shops, restaurants and more.
"The G1 was highly successful and captured the imagination of thousands of developers as the first Android-powered phone," said Andy Rubin, vice president, mobile platforms at Google. "With myTouch, T-Mobile is poised to capture the imagination of consumers everywhere, and by expanding the availability and appeal of Android-based devices, they're giving developers a bigger market for the next wave of killer Android applications."
"With myTouch, HTC and T-Mobile are delivering not just a new phone, but the ability to create a uniquely personal product experience on top of a remarkably strong feature set," said Jason Mackenzie, vice president of HTC America.
The new sleek and lightweight T-Mobile myTouch 3G Android-based smartphone which measures 4.45 x 2.19 x 0.58 inches and weighs 4.1 ounces will be available to pre-order beginning July 8 for $199.99 with a 2-year service agreement, and is expected to ship by late July 2009.