The leading company in mobile communications, T-Mobile UK has recently announced an innovative plan, named as "Pay Once". This innovative plan has been designed specifically for Blackberry Pearl 8110 smartphone that offers 12 months of unlimited access to email and Internet without a service contract. However, the calls and text messages are excluded in this plan.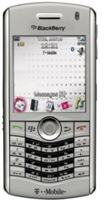 Blackberry Pearl 8110 smartphone is featured with a 2-megapixel camera with video recoding function. The smartphone has been enhanced with QWERTY keypad for easy messaging and making phone calls. In addition, it also pre-loaded with quick-links that enables users to access their favorite social sites and supports GPS.
"Our innovative new pay once concept means that a whole new group of customers can take advantage of the fantastic features of a BlackBerry smartphone without the commitment of a monthly contract and without worrying about how much data they are using," said Richard Warmsley, head of Internet and Entertainment at T-Mobile UK.
The unique "Pay Once" plan is targeted to those who like to stay connected with their friends and family members through the social networking sites such as IM, Facebook and MySpace. Available in silver color, Blackberry Pearl 8110 smartphone is expected to be available from May 1 and is priced at £179.99 without a service contract.