To garner a bigger market catchment especially to cater to Apple iPhones and iPod Touch users, Google has just released a new version of Google Talk designed particularly for iPhones and iPod Touches. Besides allowing users to send/receive Gmail messages, the intros to this new application will also allow the users of these two Apple devices to chat with their friends in the Google Talk contact list in real time while on the move.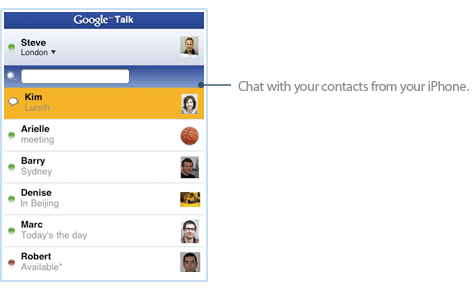 Google Talk for iPhone
Since the application is customized for iPhones and iPod Touches, users could just go to Google Talk via their Safari browsers, sign in and they can start the instant messaging function. This customized and tailor-made Google Talk for Apple users shall not require any download or installation in the Apple phones. Of course this new Google Talk for Apple devices is slightly different from Google Talk on a desktop or laptop. This tailor-made Google Talk must be run with Safari browser. Besides that, when users navigate away to another browser window or application, their status will be changed to "unavailable" and their Google Talk session will be restarted when they return. Other than these limitations, generally other features that is available in the normal Google Talk version is still intact.