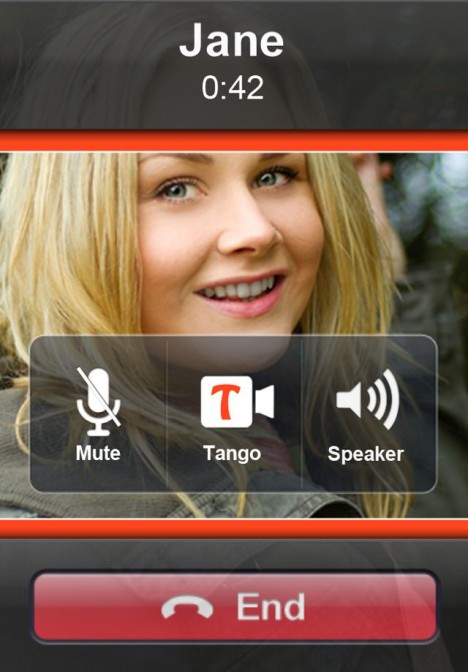 Since introduction of FaceTime in iPhone 4, video calling may finally picks up the stream to be a new trend for mobile communications. To make video call on computer, Skype, Windows Live Messenger, Yahoo! Messenger or other applications have been widely used. However, mobile video chat is relatively still new to mobile phone. There are attempts to popularize video call during the initial 3G launch phase years ago, but not many users are contacting with video chat, indirectly causing not many mobile phones with front-facing camera are available in the market.

While many smartphones still do not have video chat or video call capability, and lack front-facing camera, there may be an app that can help to initiate video chat easily, and that's Tango. Tango is a peer-to-peer (P2P) video-chatting application that can utilize both your phone's front-facing and back-facing cameras. It is available for free in both the Apple App Store and the Android Market.
Unlike Apple's FaceTime or QIK, Tango is cross-platform. Thus, you can make video calls from an iPhone to an Android phone using 4G, Wi-Fi and 3G. The video call also works between iPhones, or between Android phones. The video will works on any mobile connections available, be it 3G, 4G or Wi-Fi. During a call, it is possible to turn on or turn off video, which means toggle between audio call and video call. You could also select large or small screen view of the contact.
Tango is simple to use. It uses your phone number as your ID for its service, and periodically scans your phone address book for people it recognizes as Tango users. When it finds one, it adds that person to the address book inside the Tango apps. Setup of complicated profile is no longer necessary. What you need to do is to download the Tango app and supply it with your phone number and an email address. You are then ready to make video calls.
Tango lets you use two cameras to show yourself and your surroundings. It also works well on phones with only a rear camera, such as iPhone 3GS or Motorola Droid, briefly show somebody something around you during an audio call instead of face-to-face chat.
Tango definitely is the solution for iPhone and Android mobile phone users who wants to start video calling now. The upcoming competition will be stiff when more popular instant messaging application such as Yahoo!, MSN (Windows Live) and Skype joining the mobile video calling. In fact, Fring has introduced app for iPhone and Android with video call feature.
Download Tango from iTunes App Store or search Tango in Android Market.