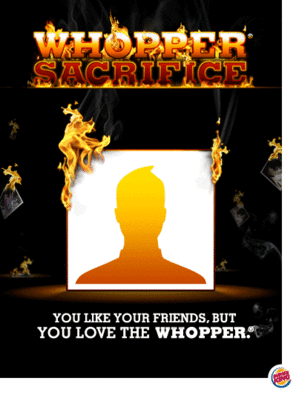 Who amongst your friends in your Facebook profile can be sacrified? This is probably a Facebook user's dilemma if they want to get a free hamburger from Burger King. Personally I like the idea of this new funny Facebook app, WHOPPER Sacrifice. You could say it is a marketing campaign for Burger King. However, the concept is really making fun of the famous social networking site. In many occasions, many users simply add strangers regardless the background, profile etc of these so called "friends". No communication or no interaction is initiated after adding them. Users would probably forget these new "friends" after a while.

"Now is the time to put your fair-weather Web friendships to the test," the Whopper Sacrifice site highlights. "Install Whopper Sacrifice on your Facebook profile, and we'll reward you with a free flame-broiled Whopper when you sacrifice ten of your friends".
Users who have installed this app can choose 10 people from their friends list to be deleted in order to get a coupon for a free hamburger. This coupon is only offered to US residents in the 50 United States and the District of Columbia. Of course you can't delete everyone in your friends list to get lots of free hamburgers. This offer is only limited to one coupon per person.
So if you want a free burger, install WHOPPER Sacrifice via the link here. Please don't forget, when you sacrifice your friends for a free Whopper, it will be clearly shown in your activity feed. Friends for a burger, anyone?