Windows Task Manager is probably good enough to show what processes are currently running in your computer. However, if you want to know the path of the process especially when you suspect your computer is affected by virus due to specific process, Windows Task Manager may has limitation to show you the detailed information so that you can't take the action to delete the file directly. Ultimate Process Killer is designed to replace Windows Task Manager with such enhancement.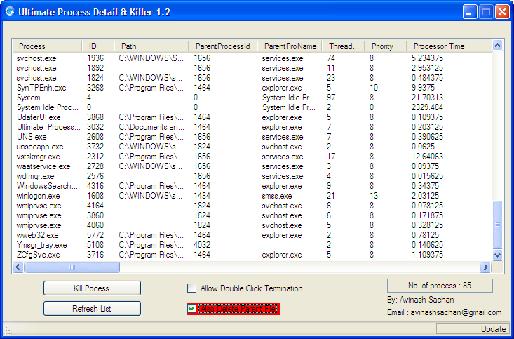 Ultimate Process Killer is a free utility that not only shows all processes running in the computer, but it also displays the detailed information such as the path of the process, thread, priority, processor time, page file size and etc. It is a lightweight and easy to use utility that allows you to select any process and kill it by clicking on the Kill Process button. On top of this, It provides you the option to delete the process as well. This is useful especially when some suspicious processes that could post threat to your computer systems and you can take the action to stop and delete the process right away.
Ultimate Process Killer 1.2 is absolutely free to download. It doesn't required any installation, just run the executable file and it will able to show you all current running processes immediately.