Occasionally you may want to quickly compare two different text documents to figure out what have been changed since the last revision. Although there are many software utilities available in the market but in case you are looking for simple one that doesn't require any installation, this tiny utility will be able to help you out. Named as TextDiff, it opens up two files and compares them line by line and once there are differences being detected, it will be highlighted with different color for further edition if there is any need.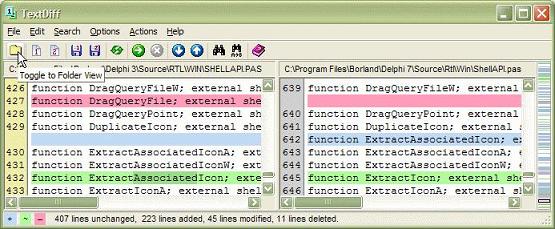 Once download and run the utility, it will bring you to a simple GUI with two panes side by side. Users can select any text file to be added into the left and right panes respectively. Click on 'Compare' button and it will help you compare both contents and list down all the differences in with highlights. Users can optionally ignore blank, case sensitive text, show inline differences and highlight them in pre-defined color code. Besides comparison, users can decide to edit, copy or merge any block from one file to another in simple steps.
Consumed at around 870kB only, the tiny utility can be run in Windows system and good thing is, no installation is required so that it can be used in other systems with easy plug and play portable capability. TextDiff can be downloaded here for immediate use.