If document writing and editing is part of your job, you may experience the difficulty when trying to gather feedback and consolidate all the review comments especially when the group of reviewers is huge. Instead of sending all the newly added comments through emails that still requires some manual work to get them integrated into final document, now with this powerful tool named as TextFlow, it will help you collaborate and manage the whole situation better, targeting to simplify the whole document reviewing and editing process.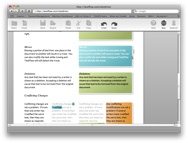 Once after you sign up here, an installation link will be sent to your registered email and just follow the instruction to get it install on your PC. After launching the program, drag the original document first followed by those edited document received from reviewers. Without further effort, you will be surprised to see all the changes altered by different reviewers appear inline in original document.
TextFlow is currently in beta version and is already available for free download for public. Since it is still in beta version, there is still some limitation such as no table and image support at this moment. No harm to try it out to see how powerful it is in auto-detecting all the changes that will be merged into final document for much productive work.