There are ways to make free call like Viber app but if you are looking for free utility that can send text messenges from your iPhone, then TextNow could be the right app for you.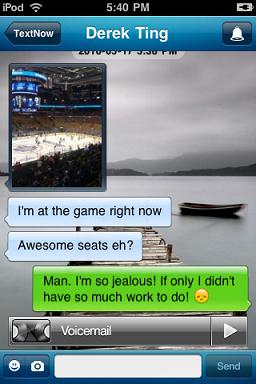 Follow below steps to install it on iOS device:
For the start, just head over to App Store
On the main screen, tap on 'Search' and key in 'TextNow' and start the searching. You should be able to find the app from Enflick Inc.
Tap on 'Install' to install the app into your iOS devices and you are done.
Some benefits that you can enjoy are as below:
Unlimited sending and receiving of Text and Picture Messages (depending on supported carriers)
Easy sign up with personal address for texting
Customizable ringing tones, themes and backgrounds
Notification when receiving a new text
Google Voice Integration support on WiFi, EDGE and 3G connections
TextNow is available for free download from AppStore so that also means that you don't have to jailbreak your iPhone in order to enjoy such benefit. However, currently this app supports all carriers in Canada (such as Bell, Virgin Mobile, Koodo Mobile, Sasktel Mobility and etc) and US (AT&T, Verizon, T-Mobile, Sprint, Alltel, US Cellular and many more) so do try out the great app on your iPod touch, iPad and iPhone for sending free SMS and MMS globally.