The Internet TV Company TVU networks recently announce the release of it new TVUPlayer Beta version 2.3.7.1. TVU networks offer a free global live TV service that enables user to watch the TV programs such as news and sports from around the world on their Windows over broadband Internet Connection. TVU uses a new broadcast technology called Real-Time Packet Replication whereby all the viewers who are watching a channel at the same times are cooperating to give everyone the best possible signal and TVU services does not create any new files on the hard disk. The service is based on a number of patent-pending technologies, covering high-quality video coding, efficient real-time P2P distribution and effective digital right management.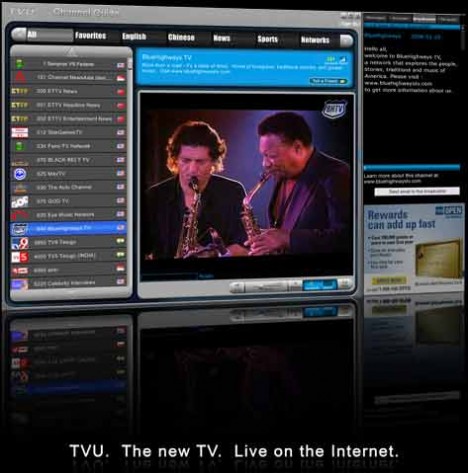 New Features of TVUPlayer Beta Version 2.3.7.1:
New channel Search feature – enter text into the Search field, and the matching channel (by name or description) will appear in the channel list.
New broadcast language menu – pick a language and only channels in that language will show up in the channel list (available in version 2.3.6).
Improved channel "presence": when channels are not available (not currently broadcasting, or blocked out for specific time interval), they will show up in the channel list, grayed out.
Reliability stability improvement.
Network performance improvement.
Firefox plug-in available.
TVUPlayer Beta V2.3.7.1 is free to download from the TVU networks site and the system requirement is obviously need of broadband Internet service (Cable or DSL). TVU Player supports Windows 2000, XP or Windows Vista, and requires Windows Media Player (Version 9+) and Microsoft IE (Version 6+).
Download Instructions:
Download the TVUPlayer.zip zip file to someplace convenient – the Desktop is a good choice.
Find the TVUPlayer folder and open it. Open the folder whose name starts with "TVUPlayer".
Double-click on the file whose name starts with "Setup.exe". This will start the TVUPlayer Install program.
In the Install program, choose the default buttons for the easiest install.
Update: TVUPlayer 2.5.2.2