The world's leader in mobile communication, Motorola has announced its new MC55 Enterprise Digital Assistants (EDA). MC55 is the newest and lightest addition to Motorola's family of Enterprise Digital Assistants (EDA). Equipped with the 3.5-inch display, the device acts as cell phone, two-way radios, digital cameras, bar code scanners and mobile computers.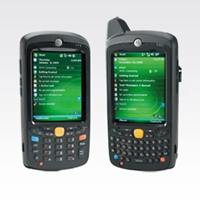 MC55 EDA is available in two models which are MC5590 and MC5574. The MC5590 is featured with number pad for physical keys, supports Ethernet port and Wi-Fi enabled, while MC5574 is featured with a full QWERTY keyboard and supports inclusion of wide-area wireless data.
The MC55 EDA supports the GSM/GPRS/EDGE standard and data networks. It also integrated GPS that supports a host of real-time location based applications including directions for drivers, real-time fleet location, geo-fencing and crumbing for dispatchers.
MC55 EDA is powered by 520MHz Marvell CPU, running on Windows Mobile 6.1 and Bluetooth enabled, it is also equipped with Push-To-Talk (PTT) that able to support soft phone clients and integration with installed IP PBXs. In addition, it also has optional with 2-megapixel camera, ID laser scanner or a 2D imager.
The MC5574 is now available in Europe, the Middle East, Africa, Latin America and the Asia Pacific. However, the global and North American markets is expected to be available in the spring.