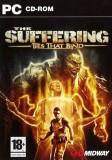 The Suffering isn't quit a pain to feel, but enjoyable, as it's a video game that developed by Surreal Software and published by Midway. The Suffering single player game is released on PC, Sony PS2 (PlayStation 2) and Microsoft Xbox in 2004 on the genre of survival horror, psychological horror and third or first-person shooter category. Gamer plays the role of Torque, an inmate in a max security prison being taken over by dark supernatural force, in the game.

The Suffering is the first game of its kind to probe into the very unsettling and seedy underbelly of a maximum-security penitentiary haunted by horrific and grotesque apparitions, represented by the unique and disturbing executions that previously befell them. Gamers take on the role of Torque, an inmate who must face much more than his own inner demons and the harsh and gritty reality of death row, as he fights to escape the unleashing of the penitentiary's gruesome secrets in a challenge more terrifying than fighting death itself. The Suffering features ultra-mature content and three distinctly different endings depending upon how you choose to survive.
The Suffering contains nine levels of horror, multiple endings and nearly a dozen different weapons. The role can also transform into a giant, rampant monster. See the The Suffering video game trailer video below for an insight introduction to the gameplay.
The Suffering for PC version has now been released as a full version game freeware. There is no time expiration to the full version of The Suffering, and anybody and everybody can download the full version setup installer absolutely free without costs to install and play on Windows PC. The game is supported and sponsored by on-screen advertisement.
Direct Download Link for The Suffering Setup Installer: midway_suffering.exe (GameDaily)
Alternatively, there are plenty of game sites to download the game, including:
bigdownload.com
gamershell.com
The download size is more than 1.5 GB in size.