VholdR has recently announced its new ContourHD camcorder, which the company claimed as the world's first HD wearable camcorder. The ContourHD camcorder is targeted for sports enthusiasts who like to record their point of view during the activities. The cheap custom essays ContourHD camcorder has been designed for supports up to 8 hours of beautiful hands-free HD video recording and user able to share the video online in seconds. The recording has been simplify with one button and a pair of lasers that help users square the image through the camera's by 192 degrees of rotation.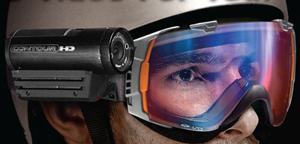 The ContourHD can be attached to goggles or a helmet and offers 720p of HD video shooting at 30 frames per second or standard definition video at 60 frames per second. In addition, it is water-resistant, supports up to 16GB microSD card, has built-in microphone, integrated with easy edit software and comes with a removable lithium-ion battery.
The ContourHD with weighs of 4 ounces is expected to be available in May and is priced at $300.