The famous Japanese electronics maker, Panasonic has just announced the world's first Micro Four Thirds system camera – Panasonic LUMIX DMC-G1, which the company claims as the world's smallest and lightest digital interchangeable lens camera.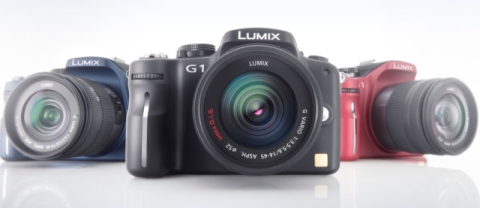 "With the LUMIX G1, we are filling a void that has existed for a long time in the digital camera market because consumers wanted the power of an SLR, but previous models were bulky and inconvenient," said David Briganti, National Marketing Manager, Imaging, Panasonic Consumer Electronics Company. "The LUMIX G answers this challenge as consumers can benefit from the flexibility of changing lenses; a quick Auto Focus; and a sensor that produces high-quality photos. By packing all those powerful assets into an extremely compact body with easy-to-use features familiar to point-and-shoot users, we are excited about G, as it brings new possibilities to the consumer."
Impressive Highlights Of Panasonic LUMIX DMC-G1:
12.1-megapixel (effective) Live MOS Sensor
3-inch free-angle LCD with high 460,000-dot resolution
1920 x 1080-pixel HD (high-definition) photo recording
Revolutionary Full-time Live View – Let users to see in
the LCD how adjusting the exposure, white balance, aperture and
even the shutter speed will affect the photo.
Micro Four Thirds System – Develops as an extended version of the Four Thirds System standard for digital camera systems. Using this standard, and developing a camera body that eliminates the mirror box and optical viewfinder unit, we managed to reduce the lens mount diameter by about 6 mm (compared with the conventional Four Thirds camera) and shorten the flange-back distance by about half. The result is a digital interchangeable lens camera that's both extremely compact and highly mobile.
iA (Intelligent Auto) Mode – Automatically activates 6 detection and compensation functions, including Shake detection MEGA O.I.S., Motion detection Intelligent ISO Control, Light detection Intelligent Exposure, Advanced Face Detection Face Detection AF/AE, Scene detection Intelligent Scene Selector and Subject detection AF Tracking.
Venus Engine HD – New imaging processor enhances noise reduction and provides independent gradation control for each of the R, G and B colors.
Supersonic Wave Filter Dust Reduction System – Designed to prevent dust from adhering to the image sensor by vibrating 50,000 times per second, the filter repels dust and other particles.
My Color Mode – Users can freely adjust the color, brightness and saturation of an image, while checking it with Full-time Live View, allowing for more expressive and creative shots.
HDMI Output – With an optional HDMI cable, the G1 can connect to an HDMI-capable HDTV, such as Panasonic VIERA Plasma or LCD.
My Menu – This new tab automatically stores the five most recently used menu selections for quick, convenient retrieval. The custom-setting can also be used to program a frequently-used function, which can be activated by pressing the down arrow on the cursor key. The color of the menu viewed on LCD can also be changed to three different colors: black, red, blue.
According to Panasonic, "The DMC-G1 provides options of picture taste with the function called Film Mode. Each analog film has its characteristics such as with color, contrast, gradation and which affects on the outcome of the picture, in other words, it is one of the ways of expression. With the DMC-G1, the Film Mode allows you to choose the one that takes the best advantage of the scene or the subject you take out of a total of nine film modes including Standard, Dynamic, Nature, Smooth, Nostalgic, Vibrant, Standard B/W, Dynamic B/W and Smooth B/W, with capability of fine adjustment of contrast, sharpness, saturation and noise reduction. Users can also shoot the same scene in 3 different films using the new Multi Film mode. All these settings can be confirmed before you take the picture and the result is always as you intended."
The new Panasonic LUMIX G1 camera will be available in mid-November as a kit with the new LUMIX G VARIO 14-45mm/F3.5- 5.6 ASPH/MEGA O.I.S lens, but the price has yet to be announced.
In addition, Panasonic is also announcing the LUMIX G VARIO 45-200mm/F4.0-5.6/MEGA O.I.S. lens and a wide-variety of accessories, including External Flash DMW-FL220(GN22); PL Filter: DMW-LPL52; Mount Adapter: DMW-MA1; Battery Pack: DMW-BLB13; DC Cable: DMW-DCC3; Soft Case: DMW-CG1; Soft Bag: DMW-BAG1; Shoulder Strap (Stylish) DMW-SSTG1-A/C/R; Shoulder Strap (Woven) DMW-SSTG2-W; Shoulder Strap (Leather) DMW-SSTG3-T.