The worldwide market leader in mobile entertainment, THQ Wireless Inc. has released Star Wars: Trench Run game for iPhone. It's the game developed by the leading studio – Infrared5, enabling players to take control of an X-Wing fighter and battle against the dark side, delivering a breathtaking 3D experience based on the original Star Wars movie.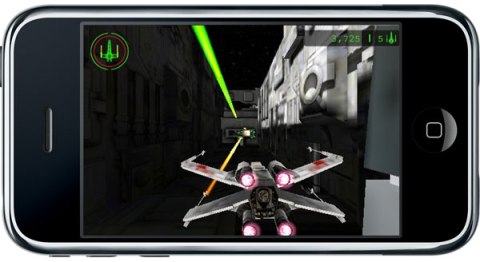 "Leading development studio Infrared5 has delivered a world-class iPhone game that lives up to Star Wars' fans expectations as they relive one of the most recognized scenes in this epic saga," said Adam Comiskey, vice president of THQ Wireless. "The iPhone is an excellent gaming platform and Star Wars: Trench Run is a great example of the quality line-up of games we plan to release on the iPhone over the coming months."
Features of Star Wars: Trench Run (iPhone edition):
Force Power – Slow down time and increase agility to bring TIE fighters into shooting range, and to dodge obstacles while flying down the trench.
Hidden Features – Players are just going to have to find out what these are.
Amazing Special Effects – Including lighting, advanced shaders, explosions and incredible lifelike models.
Original Music and Sound Effects – Combined with real movie footage for complete immersion into the Star Wars universe.
True-Life Flight – Accelerometer controls with life-like physics.
Addictive Game Play – Ever increasing challenges, and tons of replay value.
Multiple Points of View – Featuring both chase cam and cockpit modes.
Mission Mode – With story board, music and dialogue from the original Star Wars movie.
Arcade Modes – For increased re-playability, includes both Trench Run and Dog Fighting modes.
Leader Boards – Players compete against others across the world for the top spot. Find out who are the true Jedi.
Optimized Gaming Experience – To work on the 3G, with special graphical features for the 3GS, iPod Touch 2nd Gen and future devices.
"We've really pushed the capabilities of Apple's mobile devices with Star Wars: Trench Run," said Chris Allen, CEO at Infrared5. "The graphics are like a console game, and the controls are so responsive it really feels like you are Luke Skywalker flying an X-wing, attempting to take down the Death Star single-handedly. I can't tell you how excited we are to see it go live, and get feedback on what other Star Wars fans think of the game."
Star Wars: Trench Run game with multiple difficulty levels (from easy to jedi) is now available for download via iTunes for $4.99.