Communicator 2007 is an instant messaging tool that enables real time communication in enterprise environments. It replaced Windows Messenger after being released officially back in 2007. Here we would like to share a few quick ways to use Communicator 2007 for daily communication.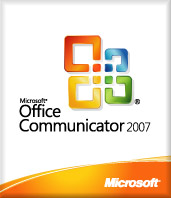 1) If you want to have instant communication with few people at once, follow below steps:
i) Click on the first contact name who you would like to communicate
ii) Press + hold Ctrl key and click for the subsequent contact name
iii) Release holding Ctrl key after you have done the selection
iv) Right click on any one of the highlighted contact names, you will see the pop up window and select Send an Instant Message
2) During halfway communication, if you would like to add more people to the discussion window, follow below steps:
i) Click and drag the contact name into existing communication to kick start the discussion.
ii) Alternatively, + hold Ctrl key and select multiple persons then drag them to the existing communication window to join the discussion.
3) If you would like to search for those people that are not currently in your contact list, follow below steps:
i) Just click on Type a name , then enter the person name. Best thing is, it will help you auto-complete the typing by listing down the entire matching contact lists in the organization.
4) With the new design of user friendly interface, you can set a note easily so that others know your current status in brief. Follow below steps:
i) Just click on Type a note and then enter your message then you are done.
Hopefully with these few tips on hand, the communication flow in huge organization will be more effective without barrier.