With everything going digital nowadays, backup has become increasingly important to safeguard and avoid or prevent from losing important data, documents, files, music, MP3 songs, especially much valued photos and pictures from accidental deletion, hard disk failure or crash or notebook computer been stolen. Titan Backup is a backup utility for the 'backup insurancce' purpose that able to make automatic secure backups of files and documents to virtually on any type of storage media including CD/DVD-RW, removable devices, network drives and remote FTP servers.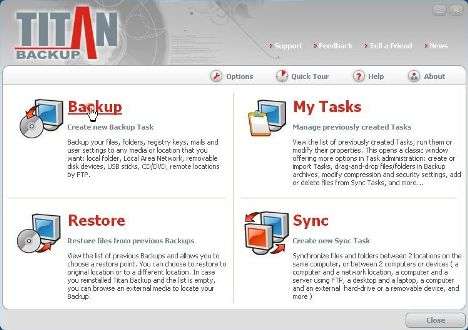 Features of Titan Backup:
Easy to use wizard-driven interface to backup all your important documents, photos, music, emails and program settings.
Backup to virtually any storage device (including local and external disk drives, LAN, CD/DVD, removable devices, remote FTP servers, etc.)
Sync Tasks – allows you to synchronize folders from different medias (example: sync your USB stick with MP3 with your computer, or your laptop documents with your office desktop computer).
With many free plug-ins installed by default, Titan Backup software facilitates the backup of emails and rules for Microsoft Outlook, Outlook Express, Firefox, Opera, Thunderbird, Eudora, Windows settings, and more.
Self-extracting backups and standard Zip archives.
Version control, incremental and differential backups.
256-bit AES strong encryption.
Email notifications on backup tasks events.
Built-in easy-to-use task scheduler.
Backup Windows registry and system settings.
Detailed logs of all backup operations.
Run third-party programs or commands before / after execution of a backup task.
Backup open files, using the Volume Shadow Copy Service provided by Windows XP with SP1 or above, Windows 2003 Server or above, Windows Vista with proper administrative rights.
Predefined searching filters that allow you to backup certain file types from your computer.
Non-proprietary archive format of standard Zip archives (ZIP64).
Data integrity and consistency with CRC verification of each file copied during the backup process.
User who wants to use Titan Backup has to purchase the license with genuine, valid and legitimate serial number for $39.95. Giveawayoftheday has offered everybody who downloads and installs Titan Backup on today (July 23, 2008) the free license and rights to use full version of Titan Backup forever for unlimited times and without restriction. To take advantage of the free offer, simply download the following ZIP file.
Free Titan Backup version 2.1.0.69: TitanBackup.zip
Unpack the ZIP archive and run the setup.exe. Then, activate and register the Titan Backup with the following serial key:
000020-ACM8KK-1Y3P5W-5W98W3-PG152G-DQK05M-4092F8-7D7RN3
The GOATD version of Titan Backup is older version of 2.1.0.69. After installation, it will find update to upgrade to latest Titan Backup version 2.1.0.73. For user who wants to install direct the latest version, simply download the latest version of Titan Backup setup installer, and then activate the software application using the key above.