Takara Tomy, Japanese famous toy maker has recently unveiled a tiny robot known as i-SOBOT. With the height of 165 mm only, it is currently the smallest size humanoid robot in the world and has been certified and recorded into Guinness Book of Records.
The robot can perform over 200 action patterns inclusive special actions like hula dancing and air guitar playing. All these actions can be accomplished by either remotely using a LCD remote control or via voice control. It consists of 17 actuators to move its joints freely and a gyro-sensor to keep proper balancing while performing these actions.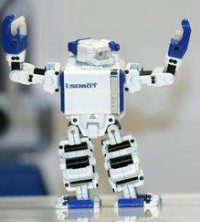 It will be available in commercial market in Japan by October 2007. At the price of only 31,290 Yen, I am sure it is worth getting one not only for children but also for adults that keen on high-end electronics gadget. But for those that are still not satisfied with its performance, you may want to wait for an upgraded version called i-SOBOT CAM version with embedded wireless camera module that can deliver the captured images to PC via Wi-Fi technology.