The Japanese Toymaker Takara Tomy has unveiled a new digital camera that features a built in printer called as Xiao TIP-521. According to the company, the TIP-521 is target to the women between the ages of 20 and  30. With TIP-521, the user able to view, capture and print out the images without ink at anytime and anywhere. It able to print directly on the special Zink Paper in less than 60 seconds.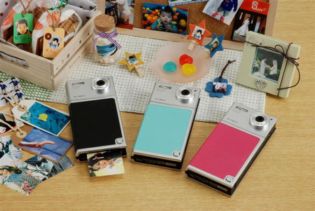 TIP-521 is a compact digital camera that features with the below specification:
Resolution: 5 Megapixels.
Zoom: 4x digital.
Display: 2.48-inch LCD screen.
Interface: Infrared port and support of SD/SDHC memory cards.
Printer Resolution: Thermal line printer with 313 dpi ( size of prints: 2 X 3 inches).
Size: 149.5mm x 74.5mm x 25mm.
Weight: 294 grams.
Color : Black, magenta and green-marine.
Memory: 16MB
Xiao TIP-521 will be available in Japan starting November 28 for the price of $320 and 20 sheet of zink paper for $8. While, it will be available in America by April or May 2009.