Apple's iPad could be a bit overprice but with the full apps support from iTunes store, it may worth to own one as a multifunction portable PC either for children educational purpose, handheld entry level gaming device or just as a pure tablet PC. If you are the one that prefer to draw or sketch on tablet PC, here are a few of top free drawing apps for iPad that may help you to consider if it is worth to have one.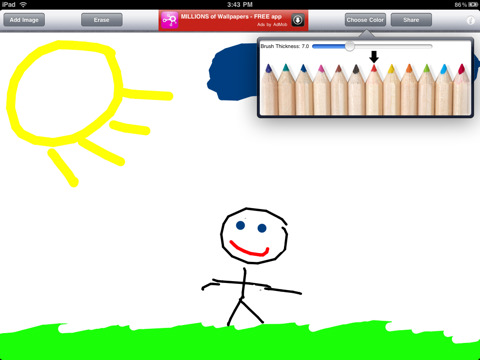 Draw
Draw is designed in pretty neat interface with different color pencils arranged nicely on its bottom left, allowing a quick note jotting or diagram drawing on the go. Basically, there are two main functions available for selection, namely Draw, Dots for drawing or TIC-TAC-TOE or Word Game for some gaming for kids. Those sketches and drawings can be cleared, undo/redo as desired. It may not be great for professionals but could be a good sketch board for your kids. And good thing is, the artwork can be emailed, tweet, added to photos or even shared via connected Bluetooth devices.
Draw Free
Unlike Draw, Draw Free lets users utilize most of its available space for sketching and drawing by minimizing selections on the top. Similarly, it has all the brush colors, thickness and erase options and by choosing on respective menu, it will expand accordingly that allows users to select directly. But what makes it slightly different is users can add image from photo album as a background and edit or draw from there. And on the sharing options, it has all the useful sharing methods such as Twitter, Email, save to photo albums but only lack the Bluetooth sharing functions as available in the Draw apps.
Adobe Ideas 1.0
Adobe Ideas 1.0 fits better for professionals as it can be used to quickly jot down any idea and then being retrieved faster than any other apps, as all the 'ideas' can be displayed in 'thumbnail' form. And by single tab on any of them will bring out the drawing immediately, allowing users to further modify or send it as an email attachment. Other advantages over the rest is its ability to duplicate ideas with single tap on a small button for effective idea modification.
Aside from these free apps that can be directly downloaded from iTune Store, there are for sure many paid apps that offer much greater features. Depending on your actual usages, these are not only suitable for adults but could be also a great tool for your kids to spend time practicing their writing or drawing skills as part of paperless initiative.