Confuse about product activation process in Windows 7? As usual, retail customers of Windows 7, except OEM branded computer which has Windows 7 factory pre-installed and pre-activated (where official OEM activation has been used to crack Windows 7).

Many people may not understand why or is there a need and how to activate Windows 7. Microsoft has composed a video clip that explains product activation in Windows 7 so that end-user can learn more about activation process for Windows 7, and know all the benefits that come with a genuine Windows. Interested users can stream the video here.
To encourage genuine purchase of paid license, Microsoft has also published a document titled "Top 7 Things to Know about Activation and Genuine Software with Windows 7". The documents, mainly meant for businesses, explains how "for computers with perpetual licensing obtained through Microsoft volume licensing program, Windows Activation Technologies provides assurance that the software is reliable, is fully supported by Microsoft and its partners, and is more easily managed with volume activation tools and services which assist in license compliance."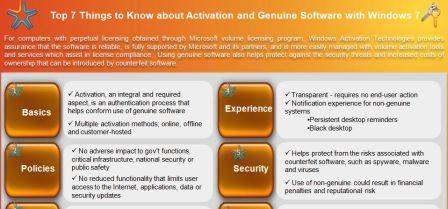 Inside the document, a PowerPoint presentation, Microsoft also gives reasons why customers may use unlicensed or non-genuine software, and its business impact of doing so.