Torrent Harvester is free search utility that can search for BitTorrent (BT) torrents on multiple websites or torrent trackers, and return the results in a single list. Actually its search function extends beyond torrents searching, where Torrent Harvester can easily configured to search for any type of file contained on a web page. This is done via addition of new search engines. And any search failure due to site redesign can be easily remedied with alteration of existing engines. But its main usefulness is finding torrents from many trackers from one window, as implied also in program name.

Why search torrents on many websites or torrent tracker sites? Firstly because not all tracker sites will have information on all torrent files available on the Internet and still can be downloaded from seeders. Secondly, popularity and quality of each tracker websites is different, thus some .torrent files provided by some network may only have low seeders causing slow download speed, or worse, no one is seeding the files causing no downloading process even started. Solution? Find a better torrent on another tracker site.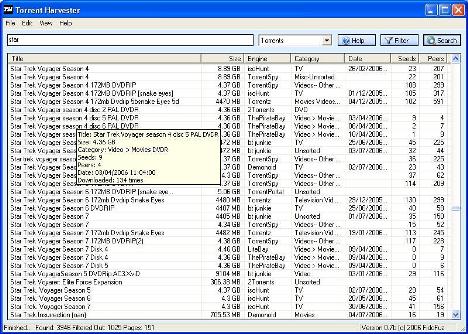 Torrent Harvestor or TH can make searching for torrent files easy, eliminating the need to go to multiple websites via web browser manually, thus users able to bypass and skip all those annoying pop-ups, advertising, spyware and virus threats. Simply download and install Torrent Harvestor, and all you have to do is just enter some text (such as movie name, software title and etc.), and press Enter or click the search button. The list will then be populated and filled with torrents found. Right clicking a torrent in the list will bring up a menu to download the torrent and start your BitTorrent client.
Features of Torrent Harvester, as quoted in its official website:
Easily searches a multitude of sites with a single click
Returns all results in a single list
Download directly from the list, or visit the website source page for complete details
Complete filtering and sorting of results, on any column
Automatically allows searching and downloading on sites which require user registration, using your system's cookies
Complete downloading transparency, with an engine status screen which shows a comprehensive breakdown of exactly what pages Torrent Harvester is loading and the results from each page
Get updates of engines directly from within Torrent Harvester
Create your own engines for your favourite sites using the in-built Engine Designer, and create your own Torrent Harvester update website to distribute engines you create to other users
Completely user-definable engines, allowing for creation of search engines for a multitude of different sites: Torrents, IRC, FTP, ED2k, Cracks, Keygens, Direct Downloads, etc.
Complete help every step of the way.
88 Included engines, with more coming all the time via updates (currently 86 additional engines available)
174 torrent tracker sites are supported right out of the box from the downloaded installer, listed as below. More engines or updated engines can be downloaded by checking online update function in the Torrent Harvester program.
Supported torrent or tracker sites: 2Torrents, Acid Lounge, adultsins.net, alt.binaries.nl, andr.net, ArabAnimes.org, Arabfiles.org, Arabfilms.org, Aradi Tracker, AvistaZ Torrents, Baltic Tracker, Binsearch, BiT-HDTV, bitenova, Bitreactor.to, Bitsoup, BitThailand, BlackCats Games, Blue-White GT, BM Torrents, BootyTorrents, BoxTorrent, Braintorrents, bt junkie, BushTorrents, ChronicTracker, Colombo, Conspiracy Central, cracks.am, Crazy Saloon, D-Addicts, DanishBits, DeepBassNine, Demonoid, Deviloid, Dididave, Digital Dreams, DigitalDistractions, Docs.Torrents.Ro, DownloadAnime, DSB-Tracker, DutchNova, DutchRevenge, EasyTorrent, Eldirnet Comedy Tracker, Empornium, eMugle, etree, EvolutionPT, eztv @ EFNET, FatalBits, FeedThe.Net, Fenopy, FileHash, FileMP3, FilePorn, Film-torrents, Freaky Torrents, Frozen-Layer, Fulldls, Google, Home Made Porn Torrents, iLoveTorrents.com, iMTorrents, Invite-Only.org, iPodNova, IPTorrents, IRCSpy, isoHunt, ItomA, Joh's GC Tracker, katastrofa, LearnBits, Legendary Torrents, Libble.com, LinkoManija, LinuxTracker, LiteBay, Lucky Torrents, MaDmAsTeRs, meganova, MERC-TECH, Metal Torrents, Midnight Torrents, mininova, monova.org, mp3share.net, Music Video Tracker, MyBittorrent, myDownloader, Myhideout, MySpleen, NastyTorrents, NewNova, NewTorrents, Nordic-T, Nova Torrents, OiNK, oth.net, Packetnews, PianoSheets, PirateBits.org, Piratenova, Piratic.org, PiSexy, Podtropolis, Podzemlje.com, Point-Blank, PornBits, PornoRip, POTUK, Powerbits, Pr0n Torrents, Prime Torrent, pure TnA, PussyTorrents.org, Quorks Anti Leech, Reprobate, Requiem Storm, RevolutionTT, RuTorrents, SaiyaMan, SceneReactor, SceneTorrents, Seeders, SloTorrent.net, smartorrent.com, Snarf-It, Snow Tigers, STMusic, SuperTorrents, SweBits, TakeAbyte, TBKResources, The Mixing Bowl, Theatorrentz, TheDVDClub, ThePirateBay, TM Torrents, TNT village, Tokyo Toshokan, TopHos, Torrent Polska, Torrent Valley, Torrent-Damage, Torrent-Galaxy.to, Torrent-Ice, Torrent-Kingdom, Torrentazos, TorrentBits, TorrentBox, TorrentLeech, TorrentMartix, TorrentPortal, TorrentReactor.net, Torrents 4 all, Torrents.bol, TorrentSpy, TorrenTsRus, Torrentz, TTi, TV Junkies, Underground Gamer, Underground Torrents, Underleech, VersionTracker, ViperByte, VIPMusic, WitchTracker, XBox-Sky, Yahoo, ZCcustoms, Zero Tracker, ZombTorrents
Download Torrent Harvester version 0.7b from here or here. It also requires Microsoft .NET Framework 1.1, or else you will be getting "Application failed to initialise" error. More download links and older versions can be found at download page.
Beside, to get full list of supported engines for torrents sites listed above, you have to perform update to refresh the engines available. And read the solution for remote server connect or 404 error when attempting to update engines.