KDDI has announced the availability of Toshiba Biblio handset. The QWERTY phone is paving the way as an ultra compact phone and e-book reader. The 3.5-inch LCD with 480 x 960 resolutions has been improved for viewing e-books.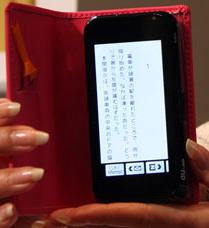 Preloaded with an Opera Mobile 9.5 browser which supports You Tube, Flash and AJAX scripting, Toshiba Biblio is also equipped with a 5.1-megapixel camera with auto-focus function. Additionally, it is Wi-Fi enabled, has built-in 7GB of internal memory, comes with an electronic dictionary, supports up to 8GB of microSDHC memory card and integrated with Bluetooth.
The Toshiba biblio is expected to start shipment on 24 June in Japan and the price is not yet announced.