Dual touch screen tablet PC is not something really new but it may be a good differentiation factor among other tablet PCs with a unique form factor design. In order to follow the trend, Toshiba has recently unveiled its first dual-touch screen but what makes it different from others is the new tablet PC will be preloaded with Windows 7 instead of commonly available Android or Linux based Operating Systems.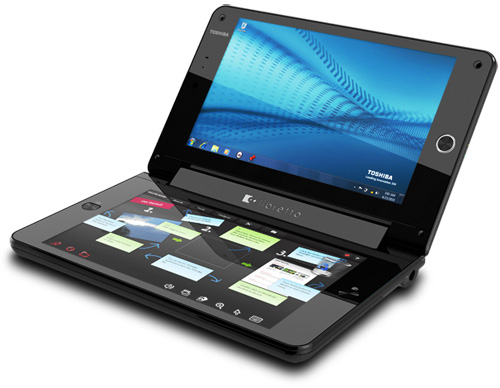 Named as Libretto W100, the new machine is featured with dual seven-inch multi-touch displays with each of them capable to scale up to 1024 x 600 resolutions. While it seems to be relatively low as compared to conventional netbook, but good thing here is both the screen can be combined and become a single larger screen especially suitable to be used as an e-book reader device while moving around. That is not all, its built in accelerometer allows users to tilt the portrait or landscape viewing with vibration feedback when the secondary screen is used as a virtual keyboard.
In terms of hardware specifications, the device is powered by a Pentium US400 processor running at 1.2GHz, providing sufficient processing power in Windows 7 Home Premium environment. Not to be lacked behind, users will get a 2GB memory RAM, 60GB of SSD (Solid State Drive), 802.11n Wi-Fi, Bluetooth, built-in webcam, USB port as well as microSDHC slot for memory expansion.
Planned to be released as special edition model, W100 will be available by August in US market at a suggested retail price of $1099.