Due to the increase demand of memory capacity for digital gadgets such as digital camera, PDA, GPS and etc, Toshiba has recently announced both the 32GB and 16GB SDHC (Secure Digital High Capacity) memory cards targeting for consumers that really need the huge capacity for extra storages. Surprisingly, the small form factor pluggable card can have similar or even higher memory capacity than the bulky IDE hard disk back in old days.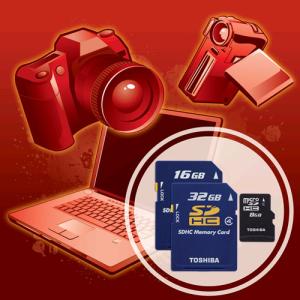 SDHC is a revised standard that is capable of supporting at least 2GB as compared to ordinary SD format. Even though they have similar form factor, but it is not backward compatible to those SD only compatible gadgets. These two models are Class 4 specifications compliant which offer higher write speed of 4MB/s for typical usage and up to 6MB/s maximum speed. Some of the SDHC compatible devices include Treo 680, Nikon D80 digital SLR and Nokia N800 Internet Tablet and we should expect many more SDHC compatible devices being released in short future.
The 16GB memory card will arrive in commercial market by October 2007, followed by 32GB models in January 2008. Although they are quite pricey at $350 and $700 respectively during the initial release, but we should foresee the price drop from time to time in this competative market segment.