The leading developer of games and applications for mobile platforms, Karma World LLC has created an exciting new 'Touch Karma' application for Apple iPhone and iPod Touch. Touch Karma is actually consisted of 3 mini applications in one, i.e. Karma For Friends, Karma For Kids and Piggy Bank, which the company claims can let users keep tabs on friends' good and bad deeds, helps track kids' naughty and nice behavior, and even acts as a virtual piggy bank.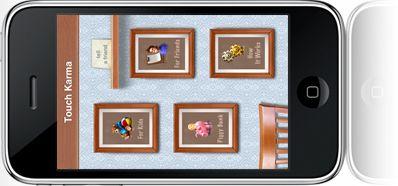 Users can determine who your best friends are by assigning positive or negative karma points (from -5 to +5), thanks to Karma for Friends that helps track friends' actions.
According to the company, "Karma for Kids helps parents track their children's good and not-so-good deeds by accumulating positive or negative karma points. A simple and easy-to-use interface allows parents to record pre-set points awarded based on good behavior. When the qualifying amount of points is reached, kids win a prize pre-chosen by parents."
In addition, parents are able to encourage saving habits in their children thanks to the virtual piggy bank with the exact coinage needed to reach a savings goal.
The new innovative Touch Karma application is now available on Apple APP Store for about $3.