Looking for a convenient solution to turn your digital photos into real greeting cards? Touchnote has determined to fulfill consumer need with the launch of its new Touchnote for Mobile application on Nokia Ovi store, which the company claims as the first mobile photo application that enables users to turn their personalized digital photos into physical greeting cards with just mobile devices.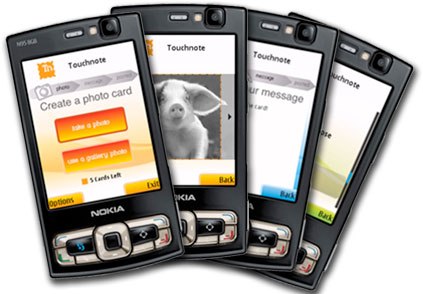 "Touchnote for Mobile takes the best of both worlds, combining the ease of use, speed and personalisation possible in the virtual world with a physical memento. With our service on their Nokia phones, people will be able to easily create their own personal greeting cards on the move by taking photos, adding a personal message and postal address and then simply uploading this to us for next-day distribution," said Raam Thakrar, CEO of Touchnote. "Our online service has proved hugely popular and we're delighted to launch Touchnote for Mobile which will make it even easier for people to capture and share those special – or spontaneous – moments with friends and family through personalised photo cards."
Touchnote for Mobile application that compatible with all Series 60 3rd Edition Feature Pack 1 and 2 handsets including 5630 Xpress, E71, N78, N79, N81, N81 8GB, N82, N85, N95, N95 8GB and N96 is now available as a free download from Nokia Ovi store. In addition, the Touchnote greeting card customers send to their friends will be available in credit bundles – £3 for one card, £5 for two cards or £10 for five cards.