Many people do not really keep track of their search history or care about what they have searched and when these searches took place. However, there are occasions when users need to relocate some great websites which they have visited or track sources of reference for some research they are doing. Thus, the ability to locate specific information about their searches will be greatly useful. The browser's features such as bookmarks, history, cookies, etc probably might give users some clue or assistance to trace back this information. Nevertheless, if users use another computer or the browsing history from the browser is deleted off, users will have a hard time to get back the information again. To facilitate users who might regularly need to track back their search history records, the foremost search engine giant, Google, actually enables users to record their browsing history via its Web History service.

Google's Web History service actually keeps track of all the search activities done by users. With this service, users will be able to know searches they have done, at what time, the urls, etc. Users need to sign in to their Google Account before the service can be activated. When users go to the Google Web History page, users will notice a list of users' search record listed on the page. The record comes with time, the name of sites users have searched and visited, the sites' url and so on.

The Web History generally breaks down users' search history to nine categories: web, images, news, products, sponsored links, video, maps, blogs and books. Besides, there is a small calendar incorporated at the Web History page which allows users to click on the calendar and trace the search records on a particular date.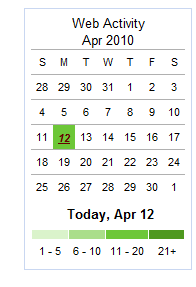 Users can also click on the tiny star icon to edit, label and bookmark a particular site from the list using this web history recording service.

Google also offers users some flexibility in the event users want to remove certain web record history or temporarily halt this web service. They just need to click the star icons for the search record and click "remove" to remove the selected items from the list. They can also click "pause" to instruct the service to temporarily halt the web recording.

Google Web History service will be particularly useful for absent minded people who always have a hard time recalling the interesting websites they have visited or the nice photos they have seen. It enhances the browsing experience and makes things more handy for users.