Skorpiostech in collaboration with Dragon Forged Software, has announced the availability of an application called as Transactions for iPhone and iPod Touch users. Transactions app is an application which allows users to make credit card payment through their iPhone or iPod Touch. The Transactions app works with two payment gateways, Paypal and Authorize.net, which require users to have account in order to use the service.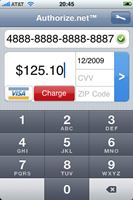 The users able to charge credit card as long as the Internet connection is available. Beside that, the users also can view transaction log and export to a desktop. It also featured with the ability to import customers data directly from iPhone address book.
The Transactions app is available in two version, a Pro and Lite version. The Pro version is priced at $30 and Lite is free but is limited to 2 credit card transactions for every 12 hours. Both applications are available for download from App Store.