When you turn on Num Lock, Caps Lock or Scroll Lock key, it is important to have an indicator to show you the status. Without the indicator, you may not aware that it has been turned on and it may cause lots of inconvenience cause like wrong password being entered and etc. However, some notebooks or keyboards may not have this indicator to show the status. If you are those that are facing such situation, then TrayStatus is just right for you.

TrayStatus is a freeware that is able to show you Num Lock status, Caps Lock status, Scroll Lock status and also the current speed of Hard Drive activity (read or write) at system tray. Once you have installed and launched it, it will stay in system tray silently and displays with 4 separate icons as shown on below screenshot.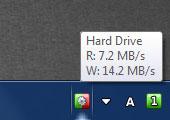 Mouse over each of icon will display tooltip about its' current status. Icons will be changed accordingly once these key locks status are changed. Each icon displayed at system tray is configurable; you can even enable/disable each of them by changing in TrayStatus.ini, with 1 means enable and 0 means disable. For hard disk read/write speed, you can change the threshold to only trigger when it reaches the minimum value in byte/sec.
Consumes only 1.25 MB of your hard disk space, TrayStatus ver 1.0.0 is absolutely free to download and is compatible to run on Windows XP/Vista/7/2000/2003/2008. If you are using Windows XP, you need to make sure that .NET Framework 2.0 is installed in order for it to run well.