TrialReset is a small yet useful utility that removes and deletes the usage information and history for trial version of the support software which is recorded in the system registry in order to extend (or crack) the trial period. Trial programs, also common known as demos versions or shareware, are a piece of software that can be downloaded for free from Internet, with restrictions such as limited to evaluation for a fixed number of days so that users can try out the program.

If you need more time to evaluate and test the application, Trial-Reset can helps you to extend the trial period of the software to avoid non-functional program upon expired. Trial Reset is not exactly a crack for the software, instead just a convenient hacking tool to clean and wipe out any registry key generated by the commercial software, shareware, freeware or demoware about trial period, as long as it's using package protector that is supported, and hence makes the software as if just freshly installed. It actually automates the process of cleaning up the registry key related to trial expiry mentioned above, and effectively restart the trial timer to start from initial count again.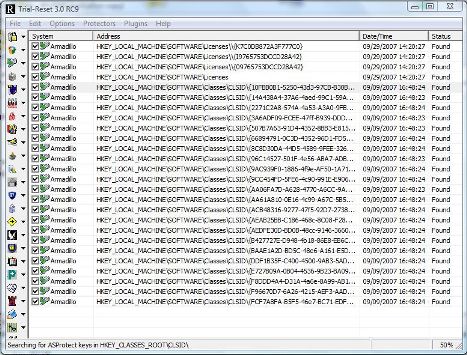 Download Trial Reset version 3.0 RC9 (Trial-Reset_v3.0_RC9.rar): Trial-Reset_v3.0_RC9.rar
To use this program the VB6 run time and Windows Common Controls ActiveX 6 (MSCOMCTL.OCX) must be installed on your computer. Once installed, you can scan and find for all registry addresses planted by various protectors by clicking on "Protector" menu, and then go to "All" and select "Scan". It's recommended to backup all registry keys before you make any changes.
The software and its protectors that Trial-Reset (version 3.0 RC3) supports and able to strip or remove including ACProtect, ActiveMark, Armadillo, ASProtect, DBPE, EncryptPE, Enigma, ExeCryptor, ExeShield, eXPressor, ICE License, NoCopy, NTkrnl Protector, Obsidium, OneWay, Orien, PCGuard, ProActivate, ProtectionPlus, ProtectShareware, SafeSerial, SDProtector, Sheriff, SGLicense, ShareGuard, SoftLocx, SoftSentry, SoftWrap, STProtector, SVKP, Thinstall, VBOLock, VBox, VisualProtect, WinLicense, Xheo Licensing, XProtector, and ZipWorx.