Posted:
November 14, 2009
/
Under:
Operating Systems
/
By:
My Digital Life Editorial Team
TuneUp Utilities (or Tune-Up Utilities) is a popular software utility to fine tine, optimize, maintain and troubleshoot Windows computer system. With TuneUp Utilities, users can make PC fast and stable, tweak or customize Windows easily, and even fix issues or problems commonly affected Windows operating system. The newest version of TuneUp Utilities, TuneUp Utilities 2010 version 9.0 has been released, with full compatibility with Windows 7.

Features of TuneUp Utilities 2010:
Supports Windows 7 operating system.
Runs on both the 32-bit and 64-bit versions of Windows XP, Windows Vista and Windows 7.
Turbo Mode to disable many unnecessary functions in XP, Vista, and Windows 7 that run in the background and are often hardly needed to harness full power for actively running programs.
TuneUp Live Optimization to improve response times by preventing background processes from taking up too much of the PC's resources, and accelerate program startup times.
TuneUp Utilities Gadget to show the system health on the desktop and give direct access to TuneUp Utilities functions (for Vista and Windows 7).
Completely redesigned TuneUp Utilities Start Center shows system health at a glance and provides direct access to key functions.
1-Click Maintenance and Automatic Maintenance.
Optimize system startup and shutdown.
Defragment hard disks and registry.
Remove broken shortcuts.
Clean registry.
Free up disk space.
Display and uninstall programs.
Fix typical problems.
Restore deleted data.
Manage running programs.
Check hard drive for errors.
Personalize Windows appearance such as startup and log-on screens.
Change more than 400 Windows settings.
Thanks to the developer, My Digital Life received a license to review TuneUp Utilities 2010. The download size of TuneUp Utilities 2010 is around 20 MB, considered to be small when comparing to its powerful features. Installation of TuneUp Utilities 2010 is straight forward and easy, just like any other Windows applications.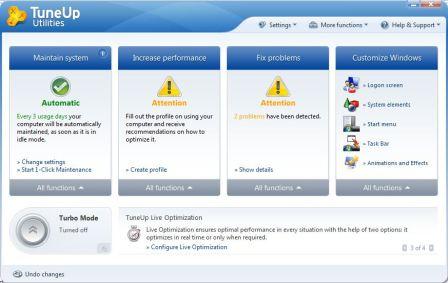 The main surprise comes after TuneUp Utilities 2010 is launched. Despite the huge and vast functionality built-into TuneUp Utilities 2010, the Start Center is clean and uncluttered. Start Center is designed with four main pillars of TuneUp Utilities 2010 – Maintain System, Increase Performance, Fix Problems, and Customize Windows, where each displaying summary of the results and/or shortcuts to the most frequently used functions.
TuneUp Utilities 2010 is made up of many integrated small utilities such as Drive Defrag, Shortcut Cleaner, Registry Defrag, Registry Cleaner, Live Optimization, Free Up Disk Space, Startup Manager, Uninstall Manager, Process Manager, Disk Doctor, Undelete, Repair Wizard, Styler, System Control and many more. With so many functionality available, user who doesn't know where to start can rely on 1-Click Maintenance or Automatic Maintenance which automatically perform various system maintenance routines (configurable) to maintain system in tip-top condition.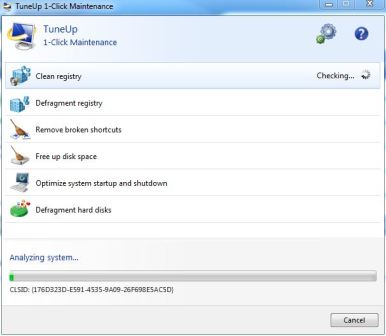 TuneUp Utilities 2010 also provies user recommendations on how to improve the performance of the PC. But user has to first create a profile to let TuneUp Utilities know you want to optimize the Internet, visual effects and installed applications. Then, TuneUp Utilities checks the system and gives recommendations in term of system performance, Internet settings, visual effects and uninstallation of unused programs.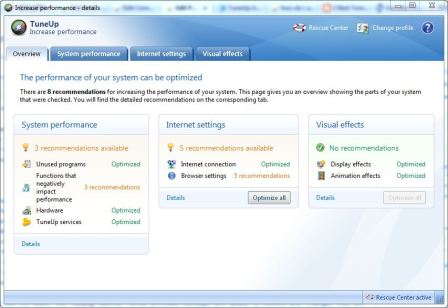 Some modules of TuneUp Utilities 2010 is actually duplicate with built-in functionality of Windows OS, such as Disk Doctor for scanning disk drive for errors, and Drive Defrag. However, Registry Defrag and Registry Cleaner are nice add-ons to optimize system registry. We also like the new Turbo Mode, which allows user to disable unwanted running programs or processes and unnecessary visual effect at one go. The Repair Wizard which fixes common problems is useful, although the the problems it able to fix is rather limited. However, we like the fact that it can recommend us to disable remote registry access capability and administrative shares. The Styler and System Control are also very useful tools which provide one-stop access to many settings and options available in Windows which otherwise users may have to spend more time just to find where to change the settings, or unable to change.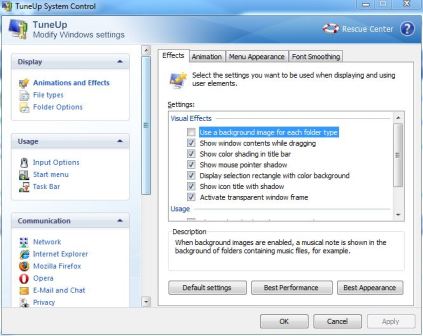 Last but not least, the TuneUp Rescue Center provides backups and ability to restore any changes that are been made by the program, which make it an indispensable tool. It also double up as system recovery similar to Windows' System Restore, and supports Windows' restore points.
Though good, we don't really impress with TuneUp Utilities 2010 to optimize the Windows 7 system, which itself already a rather speedy system, especially when we also want the full visual effects turn on. Besides, with Live Optimization (enabled by default), there is no significant performance improvement felt.
There are simply too many functions in TuneUp Utilities 2010 to introduce, so it's best just to download the free 30-day trial version
(aff) to try out: TU2010TrialEN-US.exe. Overall, we found that TuneUp Utilities 2010 is a good system optimization and maintenance software product, useful for everybody who wants to keep the Windows system clean, tidy and optimized, and which probably provide all optimization tools an user ever needed complete in one package.
TuneUp Utilities 2010 can be purchased via download at www.tune-up.com
(aff) and also as a box in stores. The software, which can be used on up to three computers, costs $49.95, and users of previous Tune-Up Utilities software versions can upgrade to the latest one for a discounted price of $29.95.