TurboCAD is a CAD (computer aided-design) software application for 2D and 3D design and drafting. TurboCAD Deluxe is a version of TurboCAD for average users without drafting tools for architectural and mechanical design. Nonetheless, TurboCAD Deluxe still contain hundreds of professional drafting and design tools, and features incredible file support, video and interactive tutorials, photorealistic rendering and drag-and-drop symbols for designers to create presentation-ready home plans, technical drawings, mechanical designs, artistic illustrations, crafts, school projects and more.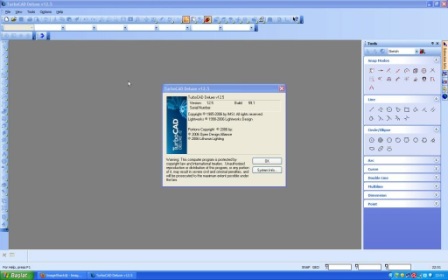 The latest version of TurboCAD Deluxe series is version TurboCAD 16 Deluxe 2D/3D, which costs USD $129.95 for a single license purchase. For people who doesn't mind to use older version of TurboCAD Deluxe, Software Paradise, an European leading software source, is giving away free license for TurboCAD version 12.5 in joint promotion with PCW magazine. The free TurboCAD 12 Deluxe giveaway is full commercial working version, with no restriction nor locked features.
To get the free license for TurboCAD 12 Deluxe with free serial number and activation key code pairs, follow these steps:
Visit the following Software Paradise promotional page URL:
Fill in first name, last name and email address, and click "Submit" button.
A serial number for TurboCAD Deluxe 12 is displayed instantly on the web page, together with the direct download link to the setup installer of TurboCAD Deluxe 12: Deluxe-12-5.zip.

The TurboCAD Deluxe 12.5 serial key and download information will also be sent to the email address that used to register.

Optionally, the free license owner can upgrade to latest TurboCAD 16 with the following 25% off discount coupon code: pcwturbocad0809.
Use the received serial number to install TurboCAD Deluxe 12.5.

Note: Everybody should receive the same serial number, which is VK55-0953-8045-3205.

TurboCAD Deluxe 12.5 requires activation. To activate TurboCAD Deluxe 12.5, an activation code or key is required. The activation code is free for license owner. To get the free activation code online, visit http://activate.imsisoft.com/ (or click on "Get Code Online" or Get Code by Telephone" in TurboCAD: Activation Reminder dialog box).
Enter the received serial number in "SN" text box, preferred language, phone number in "PN" field, and valid email address, and click on "Submit" button.
If "IMSI Design" web page is displayed, select a language and verify the email address, then click "Continue" button.
Fill in the required information in "Activation For: TurboCAD 12 Deluxe Boxed" page, and click "Activate" button. The activation code will be send to e-mail provided.