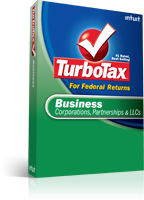 Intuit TurboTax Business is a tax preparation and filing software for S-Corporation, C-Corporation, Partnership, Estates and Trusts, or multi-member LLC. Turbo Tax Business is suitable for businesses who has revenue of less than $250,000, and has fewer than five employees. With TurboTax Business, business owners can easily prepare and complete business tax by DIY (do-it-yourself), saving costs to hire accountant.

Features of TurboTax Business:
Maximizes business deductions.
Puts you in control of your time, money, and taxes.
Provides support and guidance each step of the way.
Able to import QuickBooks data.
Can create W-2 and 1099-MISC forms for employees and contractors.
Support multiple businesses.
Federal eFile included for free.
TurboTax Business normally costs $109.95, but now it's available for free of charge by using the following link to grab a copy of TurboTax Business 2008 license:
http://www.turbotax.com/lp/ty08/ppc/ttb-learn-more-biz-free.jsp?priorityCode=4516000000
Click on "Free Download" button, and sign up for a free Intuit Small Business account (or sign in if you already has Intuit account, especially so if you have download the free QuickBooks Cash Register Plus) to record your order and purchase.
After checkout on order confirmation page, the following message will be displayed, together with the download link to w_turbotax_bpm_free_2008.01.0001.exe. There is no serial number or unlock code required.
Your FREE version of TurboTax Business is the exact same software that's sold for $109.95 in stores and elsewhere online. But for you, there's no cost or obligation. We're giving you TurboTax Business completely free in hopes that you'll keep coming back to TurboTax year after year.

So go ahead. Prepare and even eFile your federal business taxes for FREE — with TurboTax Business.
Note that TurboTax Business is not for personal taxes nor sole-proprietorship taxes, as it's not "Home and Business" product.