Most of the users will leave the computer tuned on all night when downloading huge files like software application, music and movies that may take up few hours. For people who wants to save some electricity, there is a Firefox Add-On which called as Auto Shutdown that can monitor active download and shut down computer when download completed. The Auto Shutdown has been enhanced with several options for users to configure the shutdown. Moreover, it also helps the users to execute their scripts after the specified time duration.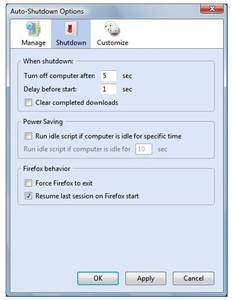 Auto Shutdown includes the following features:
Executing user scripts after all downloads are finished or computer is idle for specific time.
Restore Firefox from last session.
Customizable shutdown or idle scripts.
Play sound after each or all downloads are finished.
Supports DownThemAll.
The add-on is available as a free at Mozilla Add-ons. Once installed, it will place a small icon on the Firefox status bar. The users can click on this icon to access the "Auto Shutdown Options" dialog for further configuration. Auto Shutdown works with both built-in Firefox Download Manager and the popular DownThemAll Firefox extension.