The provider of high quality, competitively-priced audio peripherals for video game consoles and personal computers, Turtle Beach has announced the launch of its newest wireless headphones for Xbox 360 gaming console – Ear Force X4, which features Dolby 5.1 channel surround sound that able to enhance XBOX 360 experience with realistic positional sound cues emanating from all around the player.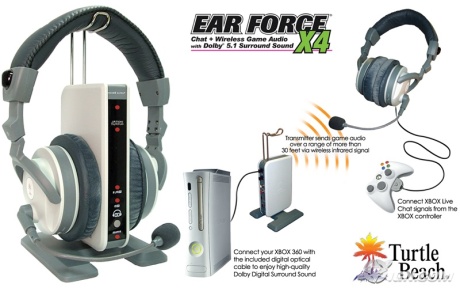 "Our previous generation of wireless XBOX 360 headphones improved XBOX gaming by combining enhanced stereo game sound with XBOX Live chat, for a personal experience that isn't possible with speakers and an XBOX Communicator," said Mike Carducci, Marketing Manager for Turtle Beach. "The addition of Dolby 5.1 channel surround sound in our new X4 expands the game action all around you. Unlike stereo headphones, you can hear every 3D sound cue as you communicate with teammates whose voices are inside your head. This, in addition to the other game-centric enhancements, such as Chat Boost, mic monitoring and so on, makes us confident that the X4 will become a must-have accessory for serious XBOX 360 gamers."
Unique Features Of Ear Force X4 Headphones:
Dolby 5.1 Surround Sound – A digital signal processor (DSP) decodes Dolby Digital audio streams from the XBOX 360 via an optical connection to create 5.1 channel surround-sound that seems as if it is playing on speakers located around the headphones.
Dolby Pro Logic II – The DSP also decodes Dolby Pro Logic II signal sources and expands stereo signals into a wider sound field that seems to originate from outside of the headphones.
Bass Boost – The headphones incorporate a bass-boost feature that produces deep, rich bass tones by increasing the volume of low frequency sounds – just like turning up the sub-woofer on a home theater system.
Chat Boost Dynamic Talkback Expander – The headphones automatically adjust incoming XBOX Live chat levels during loud game moments, so chat from teammates isn't lost in exciting parts of the game play. When the game volume quiets down, the chat level smoothly returns to the normal volume setting.
Automatic Shut-Off – The headphones are designed for long battery life and will automatically shut off after a few minutes of inactivity, so gamers never have to worry about forgetting to shut them off to conserve battery power. The package includes two long-lasting AA batteries.
Microphone Monitoring – When wearing headphones, people tend to talk louder, (and louder, and louder) since they can't hear themselves speak. By mixing a portion of the microphone signal with the headphone signal, the X3 headphones let the gamer hear his voice along with the online chat and game audio—so he'll only shout when he wants to.
Premium Sound – While most headphones utilize 40mm speaker drivers, the X4 headphones are designed for premium sound with oversized, high-fidelity, 50mm drivers powered by low distortion DC-coupled amplifiers that deliver smooth, deep rich bass sounds and crisp high frequencies to make game sounds come alive.
New Headphone and Transmitter Design – Engineered for long gaming sessions, the redesigned headphones incorporate oversized ear cups, a cushioned, adjustable headband, soft, deep, velvet ear pads and tilting ear cups to fit the contours of the head. The microphone is also removable, so it won't get in the way when you're not using the XBOX Live chat feature. The new transmitter serves as a convenient headphone stand and has an increased transmission range.
Analog and Digital inputs – A digital optical input connects to the XBOX 360 for the highest-quality audio. A digital optical output allows connection to a home theater system for simultaneously using the X4 headphones and home theater speakers. Analog stereo inputs let you use the headphones for listening to MP3 players, TV audio or other analog sources.
The newest Turtle Beach's Ear Force X4 wireless Xbox 360 headphones are now available for about $200.