TweetDeck has released its completely rebuilt version of iPhone TweetDeck mobile application – iPhone TweetDeck 2.0, which the company describes as a "re-imagining" app that maintains the essence of its origin, plus new added industry-leading features to deliver more powerful, faster, beautiful, smarter and smoother user experience than ever, aiming to enrich your social world with just a single small app while you're on-the-go.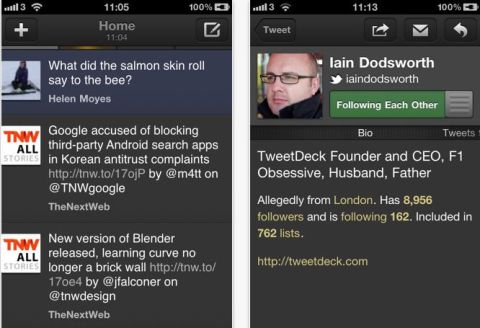 Highlights of TweetDeck 2.0 for iPhone:
New design themes and elements that first applied in Android OS
Support all standard Twitter functions
Unparalleled retina-quality graphics
Innovative navigation through user profiles
Pull to Update animations
Flick the slider to select either Following or Unfollow
Easily send long updates thanks to Deck.ly support
Fully flexible, customizable columns combine any different feeds including Facebook, Twitter timelines, Mentions, DMs Favourites, Lists and Searches
Implement pinch gesture on a column for access to options of adding any combination of your feeds
The new redesigned iPhone TweetDeck v2.0 mobile app that supports multi-tasking capability and iOS 4.0 or newer is now available as a free download at the App Store. Besides, the Twitter client is currently developing a new TweetDeck app optimized for iPad, expected to be rolled out globally in the coming weeks.
For further details, watch the intro video for iPhone TweetDeck v2: