Kyocera has announced two new phones to its mobile phone lines, G2GO M2000 (pronounced "Good-to-Go") and Laylo M1400. The G2GO M2000 and Laylo M1400 address a need for affordability and value in today's challenging economy.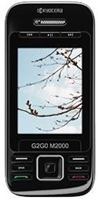 The G2GO M2000 is Kyocera third-generation phone to offer a full QWERTY keypad in a low-cost and text-centric device. Featured with a 2.4-inch QVGA display with an accelerometer to switch from portrait to landscape mode, G2GO is also equipped with a 1.3-megapixel camera with digital zoom and photo editing capabilities. It comes with a MP3 player, voice recognition, integrated with predictive text-input software for rapid text entry and supports JAVA. Additionally, it is WAP 2.0 browser enabled and supports BREW 3.1.5 technology for download games, wallpapers, ring tones and etc.
"The G2GO and Laylo support our current strengths as an innovative leader in handset manufacturing providing consumers with a blend of style, functionality and affordability," said Eric Anderson, vice president of sales at KCI. "The integration of Kyocera Wireless and the former Sanyo mobile handset group is expanding those strengths to include higher-tiered handsets going forward while still providing functional, affordable and feature-rich devices like these."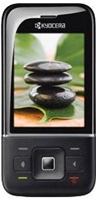 Laylo M1400 phone sports with a 2.2-inch QVGA display and a self-portrait vanity mirror on the back surface. It boasts with a VGA camera, supports SMS and MMS, WAP 2.0 browser enabled, integrated Bluetooth and, offers a talk time of up to 200 minutes and a standby time of up to 200 hours.
The G2GO M2000 is with measurement of 113 x 52 x 17mm and weighs 120 grams, and Laylo M1400 is with measurement of 94.7 x 46.7 x 17mm and weighs 90 grams. The date of availability and the price is not yet specify.