The Korean electronic giant, LG has released its two new handsets which called as GW520 and GT505. Both of the handsets have been enhanced for social networking and text messaging. With the social networking features, it allows the users to receive instant update alerts from their favorite sites like Facebook and Twitter. Beside that, both devices also support push email via an ActiveSync connection that allow users to receive email instantly on their phone.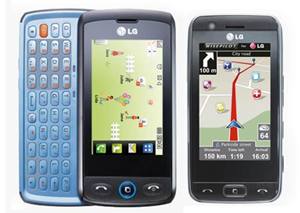 The GW520 is a full slide-out QWERTY phone which featured with a 2.8-inch touchscreen, supports up to 7.2Mbps HSPDA connection, equipped with a 3-megapixel camera, supports 3G and has built-in Live Square.
The LG GT505 is a GPS enabled phone which featured with a 30-day free trial of LG voice guidance navigation system, named as WisePilot. Along with a 3-inch touchscreen, LG GT505 is also equipped with a 5-megapixel camera, supports Wi-Fi and HSPDA connection.
Both GW520 and GT505 are expected to start shipment by beginning of June, the LG GW520 will be available across most networks while the GT505 will be available in UK via Orange.