Normally when you want to uninstall any programs or utilities from Windows systems, you would need to ensure that all the leftover files and registry traces are completely removed for optimized space and system performance. And as an alternative solution to Windows default 'Add or Remove program' feature residing in Control panel, here is a great solution that you can consider. Named as Uberstaller, it can completely wipe off all the traces of uninstalled programs with essential features besides additional File Shredding capability.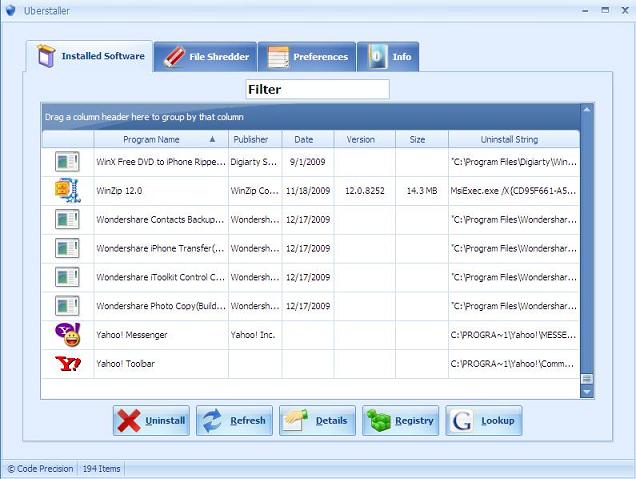 Once install and launch the utility, users will be brought to a simple interface. The program loading time is indeed extremely fast as compared to Windows default 'Add or Remove Program' and almost instantly, it will list down all the installed programs clearly by Program Name, Publisher, version and date as well as size with respective uninstall strings. In order to sort thing out, users are allowed to drag a column header to group by respective column, or filter by putting in the keyword which is especially useful when there is a huge number of programs installed in the system. Before starting the uninstallation process, do make sure the program is not running and it will effectively remove all traces of partially uninstalled programs based on the selection, besides ability to execute additional clean up tasks by removing registry keys of the specific application. On top of these, the free utility has been enhanced with a File Shredding function that allows users to securely erase any files or folders by simply dragging and dropping into the window.
Consumed around 4.4MB of your hard disk space, Uberstaller is compatible with Windows XP, Vista and Windows 7 and the only pre-requisite is it requires .NET Framework 2.0 for it to work correctly.