With the expansion of various media formats such as AAC, AC3, ASF, Matroska, AVI, DIVX, FLV, H.263, MOV, MP3, MP4, MPEG, OGG, QT, RealMedia, VOB, Vorbis, WAV, WMA, WMV and etc, users are troubled with the need to install multiple media players with different codecs in order to enjoy the downloaded medias. On the other hand, some users may opt to look for a powerful media player which could play all formats under the sun. For instance, the open source VLC Media player is one of the famous universal multimedia players that is available for free. However, if you are looking for universal media player that equipped with online content streaming and other impressive features, UMPlayer is the media player that you must not missed.

The contrasting features in UMPlayer  include the ability to stream both Youtube's movies  and SHOUTcast Internet Radio streams while supporting more than 270 audio and video codecs. UMPlayer which is written under Qt platform is also a cross platform application that available in various operating systems: Microsoft Windows, Mac OS/X (to be available soon) and GNU/Linux including Debian and Ubuntu.
Here's  the  list of the features in UMPlayer:
It is free and released as open source application.
Skinnable interface that allow users to customize the look-and-feel of its UI.
Built-in subtitle search with audio/subtitle synchronization. The antialiased shaded subtitle also supports various subtitle encoded in various language fonts.
Enhanced filter rendering
Advanced caching and CPU optimizations
Ability to stream and record (as in download for offline viewing) the content from YouTube.
Listens to thousands of free MP3 and AAC Internet radio stations available from SHOUTcast.
Supports wide range of output drivers such as X11, Xv, DGA, OpenGL, SVGAlib, fbdev, AAlib, DirectFB for smooth and quality rendering.
Ability to play the incomplete or damaged media files.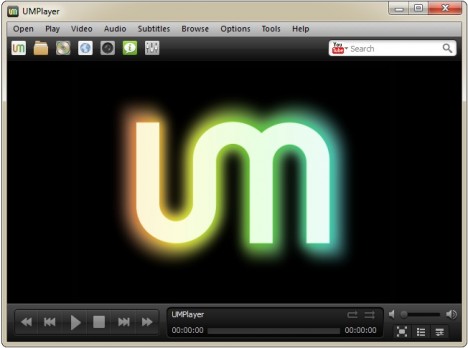 The current version of UMPlayer (0.92) has a lot more to offer and the best part is it does not seem to bundle any adware/spyware. Here's the direct link to grab the Windows installer stub from SourceForge: UMPlayerSetup.exe